Bike travellers
LUCIE AND MICHAL
TO TOUR ALL CONTINENTS
OUR ENGLISH WEBSITE UNDER CONSTRUCTION
Europe - Asia - Australia - North America - South America - Antarctica - Africa - Europe
68,175 km, 34 countries
May 1, 2002 - May 1, 2005
ALL CONTINENTS BY BIKE - OUR DIARY
What makes this tour special
First Czech woman around the world on a bike
First bike tour on ALL continents
First Czech cyclists in Antarctica
Conquest of southernmost tips of all three inhabited continents of the southern hemisphere - Australia, South America, Africa
First Czech trans-Australian ride from the west coast to the east coast
First Czech cyclists in Greenland
Expedition members
Lucie Kovaříková (born 1972)
Michal Jon (born 1971)
Education:
Lucie - Philosophical Faculty, Charles University, Prague
Michal - Faculty of Education, Charles University, Prague
Occupation:
Lucie - secondary school teacher of German
Michal - English teacher
Language Skills:
Lucie - German, English, Russian and Spanish
Michal - English, Russian, German and Spanish
Cycling Experience:
1994-2000 bike tours around Europe (total 21,600km)
1994-2002 total number of kilometres = over 46,000
Bike travellers LUCIE and MICHAL
We have been taking bike tours since 1994. We ride mountain bikes. We ride alone without any support vehicles. We carry all our gear in our bike bags. Total weight of all carried things is about 35 kg (Michal's bike) and 20 kg (Lucie's bike). Our daily distance covered depends on the surface conditions, on average we ride 100-150 km a day. The longest distance covered (with full gear) was 169 km (Västeras-Stockholm, August 2, 1998).
If you have a look at our list of toured countries, you can see that we focus on the northern and north-western European countries: Finland, Norway, Sweden, Iceland, Denmark, Great Britain, Ireland. We also biked in Germany, Austria, Switzerland, and Slovakia. Thus, in seven years we have travelled the distance of 21,600 km, which - including spring and autumn pre-season training rides in the Czech Republic - gives the total number of nearly 40,000 km.
During our bike tours we concentrate on natural beauties, historical sites and life of local people - from both historical and modern times point of view. We not only ride our bikes but we also take hiking trips (in national parks, we climb mountains and volcanoes).
During our tours we make videos and take photographs. We publish articles about our experience in a Czech bike-touring magazine called CYKLOTURISTIKA, thus, sharing it with other cyclists (1996-2001: 10 major articles).
We have also done testing of products made by various Czech companies:
Iceland '96 - bike tires by Rubena Náchod;
Scotland '97 - bike clothes by CycloSchein; bike racks and bags by Sport Arsenal;Moirathermo-underwear by Alae Lupuli
Scandi '98, Iceland '99, Ireland 2000 - bike tires by Rubena; bike racks and bags by Sport Arsenal;; bike clothes by CycloSchein.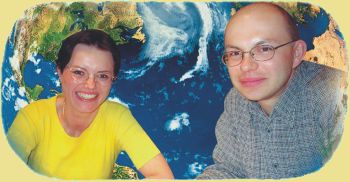 Lucie 'Lucy' Kovaříková
Michal 'Mike' Jon
Ruzyňská 35/130
161 00 Praha 6
Czech Republic
www.luciemichal.cz
e-mail: luciemichal@seznam.cz
Lucie and Michal's BIKE EXPEDITIONS
DUNAJ (THE DANUBE) - 1,200 km (August + September 1994)
A journey from Prague to Passau, Germany, and along the Danube to Bratislava, Slovakia, and back to Prague via the South of Moravia
NORRA POLCIRKELN '95 (THE ARCTIC CIRCLE) - 5,017 km (56 days)
A journey from Helsinki, Finland, across the Arctic Circle to Norway's North Cape - the northernmost point of European mainland, back to Prague via mid-Sweden, Stockholm, and the islands of Gotland and Öland, and Germany
ÍSLAND '96 (ICELAND) - 2445 km (44 days)
A round trip tour around the island with a triple ride through the interior (Landmannalaugar, Kjölur, Kaldidalur)
SCOTLAND '97 - 2238 km (29 days)
Around Scotland with a ride through the Orkneys, the Outer and Inner Hebrides, the north-easternmost tip of Great Britain - Duncansby Head
SCANDI '98 - 4173 km (36 days)
From Helsinki through the eastern part of Finland across the Arctic Circle to Norway's town of Kirkenes and to the easternmost point of Norway - Vardö, the real northernmost tip of European mainland - Nordkinn peninsula, then to the North Cape and back to Stockholm, Sweden (via Kiruna-Jokkmokk-Östersund)
ÍSLAND '99 - ASKJA - 1832 km (31 days)
Around the island with a stop at the Askja calderra in the interior, and a ride across the interior (Kjölur, Kaldidalur)
DENMARK - the islands of eastern Denmark - 890 km (August 1999)
A ride across the islands of Bornholm, Mön, Sjaelland, Falster and Lolland
IRELAND 2000 - 2835 km (30 days)
Around the emerald island, the westernmost tip of the Irish mainland - Slea Head
BODENSEE + THE DANUBE RIVERHEAD + SCHWARZWALD - 992 km (11 days)
A ride along the Danube to its riverhead in Schwarzwald, Germany, and a ride around Bodensee
TOTAL (1994-2000): 21,622 km
ALL CONTINENTS BY BIKE - OUR DIARY
This English part of our website is just a brief translation of our original Czech site. We hope you will enjoy reading it. We'll try to make it up-to-date as possible. You can also see our photos in the Czech section of our diary ("Události") and a map of our journey. If you have any comments or questions you can do it.

01/05/2002 Starting from Prague - our hometown and capital of the Czech Republic

04-09/05 Crossing the border and riding north across Germany (Bautzen-Berlin-Rostock)

10/05 Going from Denmark's Gedser to Koge

14-22/05 Biking and hiking around Kangerlussuaq, Greenland - wonderful places, untouched and unspoiled by civilization

25/05 Back in Denmark - Koge via Copenhagen to Helsingor and by ferry to Helsingborg, Sweden

25-31/05 Cycling via Jonkoping to Stockholm

03/06 Crossing the Baltic Sea to Helsinki, Finland

04-15/06 Cycling across beautiful Finland - Helsinki-Lahti-Jyvaskylla-Oulu-Rovaniemi-Nuogram. Lovely country with millions of lakes and mosquitoes and very, very friendly people

16-21/06 In the north of Norway, reaching Nordkinn - the northernmost point of European mainland (17/06)

21/06-19/09 The Big country - Russia - it was 8,631 km from the north-west to Baikal and beyond to the Mongolian border. If you want to see the "old" Russia - go there as soon as possible, the country is changing rapidly - well the cities do, but it will take a long time before the villages change as well

19-23/09 Cycling from the border to the capital, Ulaanbaatar - the road is paved, good quality, quite big hills, poor but extremely friendly local people

04-18/10 Cycling (and sometimes pushing) across the sandy Gobi desert to the Chinese border, the road is no road, one only rides along the railway, you can get water and some food from the local railway workers, only one quite big town along this 700+ km route and two or three villages

18/10 Entering China - no problems - and cycling to Beijing - well at least we started to

23/10 After some 360 km, we are arrested by police: foreigners are not allowed to move between majority of towns and cities in China (except when using public transport), we have to spend 30 hours at the police station and finally pay a fine but cannot continue on our bikes - we are forced to take the bus to Beijing (about 600 km)

08-09/11 Finally riding the bikes again to the port of Tianjin

11/11 Arriving by ferry to South Korea's Incheon

11-25/11 Lovely time in the capital city of Seoul (and we got our Australian visas here)

26/11-10/12 Cycling around Korea - the South one, of course. A lot of national parks, a lot of hills, it is very cold - winter is here

11/12-15/01/2003 Japan - the Empire of the Rising Sun, lovely but freezing, often with a lot of snow on the road, great food this sushi (also great prices!), Japanese people often incapable of flexibility - they go strictly by the rules, follow orders, they are not spontaneous. We finish Euro-Asian part of our tour - total distance from Prague to Tokyo = 17,191 km.

16/01 Australia here we come! Arriving in Perth, where temperatures are more than 40 C higher than in Japan.

02/02 Entering the famous Nullarbor Plain, the first day is really HOT = 52 C during noon, 39 C in the shade of an eucalyptus tree - we survived. In the afternoon we race for our lives - there is a bushfire somewhere near us, really frightening - imagine a really strong tail wind which helps you to go over 35 kph...but the same wind is helping the flames. Smoke with pieces of burned wood and leaves flying around us. We cycle for three hours, it is dark already, but we are afraid of what could happen next, so we try to reach the first roadhouse in Balladonia. Suddenly there is a thunderstorm, no rain, only flashes of lightning which illuminate the bush around us - now we know it was one of the strongest moments in the lives of both of us, but then it was pure fear. We stop some 30 km before Balladonia, it is raining heavily so there is no need to go further.

03-11/02 Riding the rest of Nullabor, temperatures are not as high as the first day, it is often cloudy and we have two more heavy rains (there are only three heavy rains annually there...). We see a lot of wild animals - camels, dingoes, kangaroos, eagles, seals, emus - oh the emus, we try to measure their speed: we cycle 40 kph but they are faster (so it is true they run over 50 kph). From Norseman to Ceduna it was 1240 km.

09/03 Arriving to our friends house in Melbourne.

11-22/03 Tour de Tasmania - beautiful ride around the island, a lot of national parks, rainforests, mountains, we saw a Tasmanian Devil - but it was faster then us (why? - well, it wasn't carrying any heavy baggage).

25/03 Flying from Melbourne to Christchurch, New Zealand - in 50 days we ride around the both big islands, the South Island is more or less like Europe (green hills with millions of grazing sheep like in Scotland or Ireland, cliffs like in Ireland or Iceland, fjords like in Norway, mountain lakes and mountains like in the Swiss Alps...) but there is one super place - the glaciers descending right into beech forests. The North Island is, in our opinion, more beautiful because it is more unique for us, Europeans. The geothermal areas around Rotorua - sometimes one feels it is like in Jurassic park, well the dinosaurs are missing... Corromandel Peninsula - also very beautiful and should not be missed.

15/05 Back in Melbourne.

29/05 Leaving Melbourne, heading to the Wilsons Promontory National Park in the south of Australia's mainland. Three-day hike to the southernmost point of Australian continent - the South Point. Beautiful white-sand beaches, rainforests, wetlands, hills...like a paradise.

05-13/06 Cycling from the Wilsons Promontory NP to Canberra, via Snowy Mountains. The places around the Snowy River are fantastic although nowadays every plant and tree is burnt, the January bushfires were deadly for the whole region, some 500,000 hectares are gone, but the nature is beginning to recover, animals and birds are coming back.

15-16/06 Riding through Canberra to Sydney. Lucy's frame has a crack. We managed to get the frame changed - it cannot be welded for the second time.

06/07 Using Old Pacific Highway we are leaving Sydney. Our final Australian stop will be Brisbane. We are mostly riding on minor roads, mostly no traffic at all, there are a lot of lakes, or lagoons rather, along the coast - we see a lot of dolphins. In Port Macquarie we visit a unique Koala Hospital - patients are mostly burned, or victims of car hits, some also suffer from a kind of cancer virus. Area around Coffs Harbour - a lot of bananas here, and avocadoes too. Here we say goodbye to the coast and head inland - we ride in the Great Dividing Range, hilly but nice views.

16/07 We reach Byron Bay - the easternmost point of Australian mainland - we watch a few pairs of whales going north along the coast to mate and give birth to calves and rest before going back to Antarctica.

17/07 Gold Coast - the place to go for your holiday - really touristy place nothing for cyclists (hundreds of cars in the streets, nowhere to put your tent for the night, hotels everywhere, hundreds of bars and night clubs…).

18/07 Brisbane - the end of our Australian part. The people from the Czech community are wonderful - they take good care of us. 29/07 The final ride in Australia - we go to the airport and fly to Fiji.

30/07-12/08 We arrived at the airport in Nadi and decided to go around the island of Viti Levu, the main Fijian island, anti-clockwise. The western part of the island is dry mostly with sugar cane plantations. The southern part of Viti Levu is called Coral Coast and indeed corals there are! We go snorkeling almost every day, wonderful thing for relaxing.

21/08 SOUTH AMERICA - we arrive in Quito, Ecuador. It is 2850 meters above sea level, we have problems with catching our breath when going upstairs or uphill. We have to wait for our brand new bicycles to arrive from Prague - they do finally - so on 04/09 we ride our first kilometers on this continent - just a short round trip around the city. We go north of Quito, to see the Equator. Here, near Quito - it is an orange line…

05/09 We leave Quito, we use the Panamericana Highway. Fine road, hilly. We climb over 3100 meters and go down to 2700 and then up over 3500 meters and down to 2800 again.

07/09 we leave Panamericana in Ambato and ride up, up and up - from 2590 m to 4238 meters, the climb was 70 km long, several times we lost 50 to 100 vertical meters and had to climb again. Unfortunately, we cannot see the highest Ecuadorian mountain, Chimborazo (6310 m) is covered in clouds.

September-October 2003
From Ecuadorian Andes we cycle to the banana coast (bananas everywhere!) and cross the border to Peru. Sand everywhere - except a couple of cities which are in river valleys, the northern coast of Peru is a total desert (it is not only in the north but all the coast of Peru and also northern Chile - sand everywhere). We have to fight against terrible head winds. Enough of sand - we head along Rio Santa towards the mountains (Cordillera Blanca on the left and Cordillera Negra on the right) - this is the best part of Andes we have seen so far. After mountains we go back to the coast and come to Lima, the capital. It took only a couple of hours to walk around the historical center - well, we have seen more beautiful cities before.
From Lima we cycle - again along the coast - to Nazca, a famous desert town: there are huge geoglyphs (lines and pictures on the ground made by ancient civilizations). And from Nazca we cycle across the Andes to Cusco - many times we cross the 4000 meter line above sea level (the highest point 4565 meters!).
Cusco - the former Inca capital. The best place we see in Peru, historical sites and buildings from both Inca and colonial times. And Machu Picchu not far from here - fantastic Inca ruins.

November-December 2003
From Cucso it is not far to Titicaca – the world's highest navigable lake. It is 3050 meters above the sea level and it lies on the Peruvian-Bolivian border.
From Titicaca we cycle the Bolivian high plains – the Altiplano – about 4000 meter above the sea.
South of La Paz we cross the salt lake called Salar de Uyuni – we cycle 80 kilometers on salt, yes, on real pure white salt.
And we enter Chile soon afterwards. Near Antofagasta on the Chilean Pacific coast we cross the Tropic of Capricorn. The north part of Chile is a desert – it is very hot and very dry, actually the driest desert in the world.
A few days before Christmas we reach Santiago de Chile, the capital city. We are successful in getting our visas to Canada.
We spent Christmas Eve in a small Chilean town called Victoria – our only Christmas present is a bed and a hot shower in a local motel – the weather is not like Christmas at all: it is hot and the trees are green and the flowers are in blossom – spring time in the southern hemisphere.
The last day of the year we come to a place called Osorno – near a volcano called Osorno (it is nearly as beautiful as Fuji-san, Japan).

January 2004
We cycle as far as Puerto Montt, we get on a ferry and for three days sail through Chilean Patagonia to Puerto Natales.
During the bike ride from Puerto Natales to Punta Arenas we experience a truly Patagonia wind, a westerly wind helps us to go east – in one place we reach the speed of 65 km per hour!!! And it is on a completely flat road and without using our pedals – we just sit on the bike and enjoy the ride. But after 20 minutes (25km) we make a 90 degrees right turn and the wind is making us fall off our bikes several times. The next day the local newspaper writes about winds of 130km per hour!
We reach Punta Arenas – the southernmost city on the South American continent. We take few days off . Here we try to get on a Chilean Air Force plane to Antarctica – we are not successful. So we try the Chilean Navy to get to Antarctica on board of one of their supply ships – we are not successful. So we take the ferry to Tierra del Fuego and cycle from Porvenir to Ushuaia, Argentina – it is the southernmost city in the world.
In Ushuaia we make a third attempt to get to Antarctica – and we are successful.

February 2004
Two days after we leave the port of Ushuaia we arrive to Antarctic waters – we spent four days cruising among the icebergs and islands and whales (a lot of whales!), every day we get to the shore and walk around numerous penguin colonies, we see a lot of seals as well.
Seeing Antarctica was a great experience – we recommend it to everybody.
After Antarctica we continue our bike trip by riding to Buenos Aires – we take the famous road No. 3.

March-May 2004
In Buenos Aires we enjoy watching the tango show and we also get our visas to USA. From Bs.As. we make an extra trip – we planned to go straight to Montevideo, but changed our plans – South America is so wonderful that we do not want to leave…
So we cycle to Paraguay and see a very very big dam on the Parana river in Itaipu on the Paraguayan-Brazilian border.
We cycle 14 km in Brazil to get back to Argentina. Here in Iguazu is another highlight of our South American tour – the great Iguazu waterfalls.
And from Iguazu we jus ride south to Uruguay to finish in Montevideo. After 8 months and 15500 km (total is 45000 km) we fly to North America.

North America
We arrive to Mexican Baja California a long thin peninsula below the US California. We cycle from the south called Los Cabos to the north. In Tijuana we cross the border to the USA and then cycle along the Pacific to San Diego and Los Angeles.
After only two or three kilometres in the USA we notice a strange feeling - YES! we can smell the flowers and trees, we cannot smell the cars, the streets and roads are clean! Very pleasant after 8 months in South America and Mexico...

June 2004
We cycle from the mexican border first to San Diego and then along the coast to Los Angeles. Cycling was absolutely superb - special lanes for bikes or bike paths almost all the way! A lot of cyclists near LA - it was Saturday.
We had a 12-day rest in our friend's house - we also saw Hollywood, Beverly Hills, Universal Studios, Santa Monica beach. And our bikes got some new parts - after 17,500km from Ecuador they needed a little repair.
From LA we decide to cycle along the coast to San Francisco. And again it was a great ride. 900 km alolng dramatic cliffs, sandy beaches, up and down many hills, redwoods... Every night we spend in state parks or state beaches - it is not expensive: just $2 per person - it is forbidden to sleep in a tent in other places, so we don't want to have any problems with police of course.
Here in San Francisco we crossed the famous Golden Gate Bridge and finished in a place called San Rafael where we have again a chance to spend some time in our frineds' house. And the bikes needed another repair - some more parts needed to be changed.
The total distance we have covered so far is 47,897 km.
From San Francisco we head - where else than north - to see the wonderful redwoods - the world's tallest and oldest trees. Fantastic experience! Definitely the most enjoyable part of the whole west coast. From California we cycle all the time along the Pacific coast through even more beautiful Oregon coast.

July 2004
Oregon and Washington - steep cliffs in Oregon and forests in Washington: some fine cycling and we end up in the northwestern most point of the US.
From Port Angeles we take a ferry to Canada's Victoria Island in the province of British Columbia, cycle to Nanaimo and by yet another ferry to Vancouver.
A cruise ship from Vancouver to Seward, Alaska was in fact cheaper and faster and more convenient for us than the regular Alaska Marine Highway Ferry, so we took it and made stops and whole-day trips along the way north: in Ketchikan (nice totems), in Sitka (former Russian capital of Alaska), in Juneau (present capital with a wonderful glacier nearby) and in Haines (we hiked to the top of Mt. Riley).

August 2004
We cycle from Seward, Alaska, to Anchorage. Then in Denali NP, around Mt. McKinley, the highest peak in North America, in Fairbanks we turn eastwards and continue on the 2,400-kilometer-long Alaska Highway to the Yukon, Canada. In Whitehorse, Yukon's capital, we have a rest for a couple of days.

September 2004
The Yukon and British Columbia are fantastic! Finally we see our first bear just before we get to Haines Junction. The bear crosses the road in a real hurry - seems like it is very scared and annoyed that people built that flat thing there.
From Whitehorse - where we have a twelve-day rest - we continue on Alaska Highway to Watson Lake (in the Sign Post Forest we leave our sign, of course), we have a swim in the Liard Hot Springs, pass another buffalo group just next to the road, meet some bighorn sheep right on the road....to finally end up in Dawson Creek, the end of Alaska Highway, well actually it is Mile 0 for most people.
From Dawson Creek we ride to Prince George and we see other bears on the road - five of them. But we have no trouble with them since they run into the bush almost immediately after they see us.
Soon after Prince George we come close to and then enter the Canadian Rockies for the third time and this time we have to cycle through the real Rockies - two mountain passes above 2,000 meters on the wonderful Icefields Parkway between Jasper and Banff. It snows on top of both passes with glaciers all around us. Winter is coming! We must hurry to the east coast.
It is really easy to speed up. The prairies are here. Flat country, really flat. And winds from the west help us every day (the longest distance in a day we cover is 249 km).
Alberta, Saskatchewan, Manitoba - 1600 km of flat road with absolutely no hills - what a ride!

October 2004
Ontario - finally some trees, lakes, rivers - it is like Finland here. Lake Superior, Lake Huron and at last, Lake Ontario and a place to relax at our friends' place.
Since May 1, 2002 we have covered 57800 km.

November 2004
We finish our North American part in New York City and fly to South Africa.

December 2004 - January 2005
Africa is our last continent. We start in Cape Town and finish in Cape Town after 30 days of cycling in very hot weather (+54 degrees). Our African part of the trip contains one big aim - Cape Agulhas. The southernmost tip of the continent. Unlike Australian or South American this time we can cycle right to the very end of the continent. In Africa we cover the distance of 2800 kilometers - it is a very beautiful country, the most beautiful we have seen so far but we would never want to live there. At the end of January we fly over to Europe and start our journey home.

February - March 2005
Gibraltar-Sevilla-Lisbon-Porto-Santiago de Compostela-Bilbao that is the Pyrenees peninsula part. Near Lisbon we come to the westernmost point of European continent - Cabo da Roca. The weather is cold, rainy, snowy - in southern France Michal has to take antibiotics but we never stop cycling towards Paris.

March 2005
We cycle across France to Paris and then have a couple of days in bed, we are both feeling horrible. From Paris we continue to Belgium, the Netherlands and Germany.

April 2005
The Rhein Valley from Cologne (Köln) to Karlsruhe is very nice. And so is another cycleroute along the Danube from Donauwörth to Vienna (Wien).

May 1st, 2005
Hello to everybody around the world,
Today we crossed the finish line, on exactly the same spot where we started the journey on May 1st, 2002. After three years of cycling around the globe - all seven continents, 34 countries, the total distance of 68,175 kilometres.
After we settle down and relax a bit and, of course, get used to everyday life after this long and very different part of our lives, we will write more.
Let us thank all of you who helped us, wished good luck and safe journey to us! Our expedition would not have been possible without your help and support! Thank you all!
Sincerely,
Lucy and Michael
our new e-mail address is luciemichal@seznam.cz